Document management with LECARE
The paperless office is the vision in which there are only documents in file form, which the user manages via his software or PC or other devices (tablet, smartphone, etc.). With our software this vision becomes reality.
---
In order to keep an overview of the large number of documents and to find them again later, the document management integrated in LECARE, including its own DMS (document management system), helps you. File, save and (re)find documents.
With the browser version of our software, you also have access to your documents, images and texts anytime and anywhere. No matter what time of day or night, and no matter what part of the globe. This allows us to offer you the greatest possible flexibility.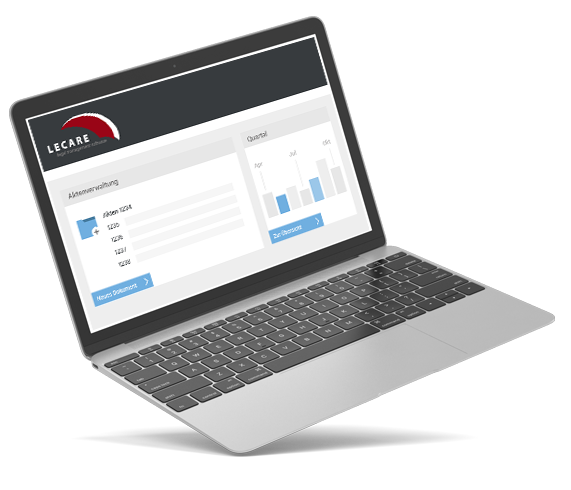 The individual modules of our document management
Integrated DMS
(+) Easily manage and store your documents, emails, etc. in one central location
(+) Simple adding of documents by drag & drop function
(+) Accessibility from anywhere and at any time
View all functions
Search & OCR Function
(+) Simple text and keyword search in all electronic documents (full text search)
(+) Automatic text recognition within your scanned image and PDF documents
(+) Faster editing of documents through integrated selection tool
View all functions
Clause Manager
(+) Central and system-wide administration, storage and modification
(+) Log system for viewing clause and edit history.
(+) Categorization of clauses for an optimal overview; with integrated search function
(+) Adjustments of contract templates with only one click
View all functions
More text functions
(+) Supplied and own text templates
(+) Text module management
(+) Serial letters
(+) Integration of MS Office
View all functions
Document Management System (DMS)

With the document management system (DMS) from LECARE, all your important documents, e.g. your documents, are available at all times. Draft contracts, emails or pleadings, stored in one place.
There they can be easily managed and marked, different versions and drafts can be saved. You can access the relevant information from anywhere and at any time.

An integrated search and sort function makes finding documents easier than ever before. Our full text search allows you to search the contents of all your documents and e-mails using individual search terms.
The powerful integration of e.g. Microsoft Word, Outlook or Lotus Notes into our software enables easy handling and the greatest possible comfort. See for yourself!
Easily manage and store your documents, emails, etc. in one central location
Simple adding of documents by drag & drop function
Accessibility from anywhere and at any time
Powerful full-text search, sorting and organizing capabilities to find documents, emails, notes, etc.
Fast and uncomplicated integration of your e-mail program such as MS Outlook (convenient storage of incoming and outgoing e-mails, duplicate check)
Use the additional functions of our electronic file management (e.g. appointments, resubmissions, linking of persons).

Detailed information and technical details

Easy storage of documents and e-mails Each file has its own document repository. In the so-called Vita (the life of the file) all letters of all common formats can be stored. Various types of documents, including e-mails and image files, can be stored in the Vita and retrieved at any time. The simple drag & drop principle makes inserting documents and e-mails into the electronic file child's play.

Storage of documents and e-mails with Drag & Drop (copy and paste)
Duplicate check when saving e-mails
automatic transfer of extensive metadata of the document and the e-mail
Possibility to add an individual note to each entry
Adding of e.g. file and telephone notes without additional document
Use of own versioning and storage of previous versions

Extensive search A comprehensive search and sort function allows you to find all documents quickly and easily. The search can be performed per record or across all records in the dataset. A powerful full-text search even enables a content-based search for search terms across all text-based documents and e-mails.

Full text search within all documents with preview window (marking of hits)
Extensive search and sorting functions

Perfect structuring Create folders or subfolders to create a custom structure for your documents. Your documents are stored in the file with metadata, such as date of receipt of mail, recipient, author, date of document, etc. In addition, you can organize the better findability of documents through individual keywording. Use categories and filters to further organize your documents. Easy location is thus ensured at all times.

Create folders and subfolders for individual document structuring
Storage and display of metadata (e.g. date of receipt, recipient, author)

Integration into other programs Other programs such as Word or Outlook can be easily integrated into LECARE document management. Send e-mails directly from LECARE and save any correspondence directly in the corresponding file. Also an integration of MS Word and MS Excel is no problem. For the storage of Outlook and Lotus Notes e-mails, there are various convenience functions for quick storage.

Transfer of appointments, deadlines and reminders (tasks) from LECARE to Outlook or Lotus Notes
Save Outlook and Notes e-mails with various convenience functions (e.g. Drag&Drop)
Integration of MS Word and MS Excel
Sending of Outlook emails from LECARE and automatic saving to the file

The automatic text recognition and keyword search for your documents
With the text recognition (OCR) of LECARE you get the possibility to search all your e-mails, PDF-, Word- and Excel-documents, which you have stored centrally in your electronic file management, for certain keywords and to display them.
Scanned documents, e.g. Judgments, contracts and documents can be searched and evaluated for specific content in a matter of seconds.
The automatic text recognition – together with the electronic file management of LECARE – forms the optimal solution for your department!
Simple text and keyword search in all electronic documents (full text search)
Automatic text recognition within your scanned image and PDF documents (contracts, deeds, judgments, etc.)
Faster editing of documents through integrated selection tool

Detailed information and technical details

Automatic conversion of files
After activating the OCR functionality, all image PDF files, e.g. scanned documents such as judgments, deeds or contracts, are automatically converted. All existing image PDF files (but also pure image files like JPEG or TIFF) can be converted manually by a right-click command of the user (multiple selection possible).

Searching the content of documents
The OCR text recognition module helps you to search all documents. After conversion to a text file, the entire text can be searched for keywords that occur in the document. This allows you to search for content within documents without having to read the document. In addition to PDF files, Word or Excel files and e-mails in particular are searched.

Simple editing
Once the scanned documents have been converted, text selection tools are available in the PDF documents to make it easier to copy text elements from the document. This helps you if you want to edit the text in Word, for example. Save yourself the time of typing. The recognition rate after a conversion depends on the machine readability of the respective document.
Text templates and other text functions


Supplied and own text templates:
LECARE offers you an extensive collection of text templates already at delivery, which you can select via a convenient menu with a systematic order structure.
There you will find a diverse selection of templates ranging from common cover letters to red notices to special or mandatory foreclosure samples.
Using our clear and powerful text manager, you can edit and customize the included templates, but also add your own templates quickly and easily.
Central template management with a system

Store these templates for your company in a central location – and also with a clear system:

All text templates are available to every user of our software
Individual adjustments are possible at any time
Storage of several similar text templates (e.g. different letterheads) is also possible.
Automatic transfer of file information into the text template, e.g. name, address, salutation, file number, person in charge etc.

In addition, you can use our software in conjunction with MS Word to conveniently create serial letters. This allows you to write identical letters to all the companies you have selected as participants in a file.

At

MS Office

you will not have to do without in the future. In fact, LECARE integrates perfectly into your company's IT landscape, you will work even better with MS Office and your daily work will also improve – and your legal department as a whole will become more efficient!

Our text module manager helps you to maintain recurring text modules in a central location and to make them available to every user of our software via a Word macro.

The text module manager follows the same approach as our Clause manager: The creation and maintenance of texts in a central location, so that all users always have the current and identical wording available.

Supplementary comfort functions as well as a history of the respective module, explanatory jurisdiction notes and further helpful information, which are deposited to the respective text module, belong to the scope of supply of the text module manager.