DocuSign Connect
By connecting your DocuSign® account to our LECARE interface, you can send contracts directly from the file to customers, partners or applicants for signature via DocuSign.
The interface allows you to query the status of the document without leaving the LECARE interface. In addition, signed documents can be loaded back into the Vita with just one click.
---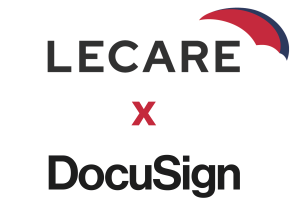 Keep an eye on the document status at all times

With just one click, you can see if everyone has already signed the contract without having to log into DocuSign again. The signed contract is back in LECARE with just one click.

Save time & costs

Through integration, you avoid media discontinuity, the entire process is digitized – you save valuable time because the process does not require a scan, fax machine or printer at all. No drag & drop necessary!

Covering the entire workflow with LECARE

When you upload a document, you are automatically directed to your linked DocuSign eSignature account to send your documents – increase your efficiency.

Free use for your customers, partners and applicants

DocuSign does not charge the signer – only you need a DocuSign account. You do not have an account yet? We will be happy to contact DocuSign for you.

Signatures are processed securely

With LECARE DocuSign Connect, you can use simple and advanced electronic signatures from DocuSign eSignature. DocuSign is one of the world's leading service providers in the field with over 1 billion users worldwide. DocuSign issues a Certificate of Completion for each process, which is a trace of all the steps the document goes through.
You would like to discover even more?
Here you can find more LECARE solutions to help you organize and optimize your legal department in a time-saving way.