LECARE File Management
File management focuses on the efficient management of documents and emails, as well as improving communication with contractors, departments and external law firms.
---
The electronic file is structured like a paper file. By scrolling through the customizable tabs, you have quick access to the most important information at the click of a button, anytime, anywhere.
Thanks to the high degree of customizability and numerous interfaces, the electronic file integrates perfectly into your daily work routine – save not only paper, but above all time.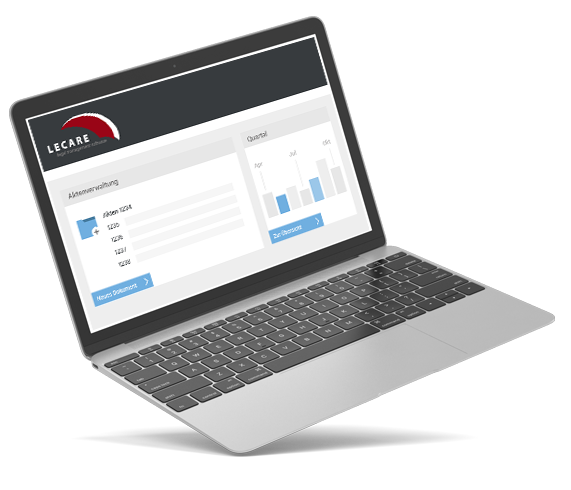 Detailed information and technical details of the e-file
Management of operations and procedures
Clear arrangement of fields and buttons according to ergonomic regulations
Categorization of the case file according to customer-specific activity areas
Recording of the participants with address and communication data
Information on the course of proceedings for individual evaluations and statistics
Display of all documents, inboxes and e-mails in the file
Mapping of all judicial instances with automatic court determination
Calculation of the litigation cost risk for civil and social courts
Carrying out a risk assessment and a provision analysis
Dates, deadlines & resubmissions
You can create resubmissions and deadlines for each individual record. Resubmissions are reminders with or without comments that are intended for one or more clerks and are intended to provide information about the current status of the file or to indicate the further procedure.
Creation of reminders, deadlines and appointments directly to the file
Display of all elements on the start page or in the overview shown above
Integrated calendar overview for a clear presentation of appointments
Synchronization with Outlook (appointments, tasks, contacts)
Creating Group Appointments and Group Resubmissions
E-mail reminder for expiring resubmissions
Linking documents with resubmissions
Automatic deadline calculation for certain types of deadlines & deadline management
Export and print of all deadline and reminder lists
Filing & Searching Documents
In order to keep an overview of the multitude of documents and to find them again later, the LECARE document management system helps you to file, save and (re)find documents.
Storage of documents via drag & drop

Full text search within documents and e-mails

Automatic file assignment when sending/receiving Outlook mails
Evaluation & Reporting Tools
From a small search to the individual evaluation of all data, everything is possible in LECARE. We deliver ready-made evaluation lists for all common areas, but we also create individual lists for you according to your specifications.
All lists can be freely configured by the user (number of columns, width etc.)
All common lists can be printed and exported to Access or Excel
All evaluations are based on the authorization release of the user
All common lists can be filtered by keywords per column
Retrievable file and process register
Statistics on ongoing, added and closed procedures
Reference file for case files, contract files and trade mark files
With the text manager you can store individual text templates in the system. When these templates are called up, the specific file information is automatically inserted into the respective document. Once created, you can immediately save the letter to the file with a few clicks and it will be available to any clerk.
Deposit of own sample letters, contract templates and serial letters
Transferring all file information into a sample letter
Easy editing of existing sample letters with our text tool
All functions of MS Word are applicable in the sample letter
Extensive initial text stock (e.g. court letters, ZV, invoices)
Create custom fields and tabs
Do you want to enter further important information about the file or the participant, but there is no corresponding field in LECARE? No problem. With the "Free fields" you can create your own new tab with all the fields you need. All fields can be evaluated later and even integrated into text templates.
Unlimited number of tabs and fields possible
Free naming of tabs and fields possible
Date, input, multi-line, checkbox, number and selection fields are supported.
Fields can be evaluated and integrated as placeholders in templates
Can also be used as mandatory fields
Separable for transaction files, personal files, contract files and trademark files
Access rights & user settings
LECARE has a detailed authorization system that controls and regulates sensitive access to certain file information or file inventories for individual clerks or groups of clerks. This includes not only the specific assignment of write or read rights, but also the hiding and showing of certain function modules such as the receivables or client account.
Creation of various file inventories with their own number range
Allocation of authorizations per user to individual file stocks possible
Individual settings and configurations per file possible
Individual display of functions per user can be shown and hidden
Set files within a fonds "confidential" and protect them from access
Additional functions of our software
The electronic file is the heart of our software. It can be extended by many other useful functions. Put the modules together individually and work with what you really need.
Here is an overview of the additionally selectable modules: